Established in 1993, Technical Methods transformed its website to be fresh, modern, mobile-friendly, and to meet its industry's competitive online standards.
We really wanted an updated look that was fresh and modern, and that was really their doing. They came up with all the background graphics and just the overall look of it. Secondly, the website needed to feature our capabilities and be relatively easy for people to understand— we operate in a very unique industry. So, for them to learn about our business and then fill in the proper wording, have it make sense, and translate well online, was definitely all of their doing and they did a great job.

Dawn Smith,; Co-owner, Technical Methods
The Client
Technical Methods
Industry: Industrial Manufacturing (Tooling & Services)
Location: Lonsdale, Minnesota
Website: https://tmethods.com
Technical Methods is a tooling and services company serving the aerospace and commercial industries. The company builds pattern tooling moulds for foundries across the United States that support these industries and more.
Case Summary
The Challenge
A website with improved accessibility that could meet the competitive standards of the industry.
Technical Methods has been in business for 27 years and has built solutions for companies like Bell Helicopter, Boeing, and Rolls Royce. To maintain its authority and extend its business reach the company's website made its debut in 2010.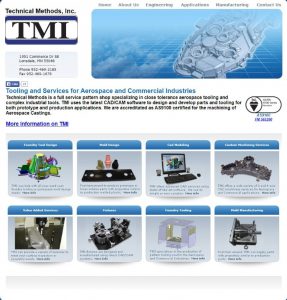 In the ensuing seven years, web standards evolved but the website did not— the functionality was outdated and the content was not mobile-friendly.
After Paul Miller sent recommendations to improve the site, the company hired Battlestar Digital for the job.
We could tell that our website seemed outdated and did need to be redesigned. But it was Paul coming in with some really great, fresh ideas that drove the website redesign.
The company needed a website with a more modern, mobile-friendly interface that would naturally prompt visitors to engage with the site content, submit a contact form, and give the company a competitive edge in its industry.
The Solutions
Creation of a draft updated version of the website to ensure the reflection of the business' needs.
Battlestar began the redesign process by creating a draft of an updated version of Technical Methods' website. The draft provided their team a preview of how the website would be improved and helped to explain the importance of every part of the redesign.
We got a YouTube video of the redesign prior to it actually going live to the public, and that was really great to see.
The website was redesigned to meet the competitive online standards in the industry.
The goals of the website included serving as an advertisement and establish the company's authority as an industry leader, showcasing its operational capabilities (through featuring its 12,000 square feet facility), and generating potential business interest from site visitors.
To achieve the end-goal of the company, Battlestar worked with the Technical Methods sales team to refine the website copy, then designed and developed web pages that highlight the skills and incorporate SEO strategies.. Battlestar also integrated many quality photos of the new facility to capture the attention of site visitors. Prior to going live, the website was tested on desktop, laptop, and mobile devices for responsiveness.
…we operate in a very unique industry. So for them to learn about our business and then fill in the proper wording, have it make sense, and translate well online, was definitely all of their doing and they did a great job.
Battlestar Digital regularly maintains Technical Methods' website.
Battlestar periodically makes updates to help Technical Methods maintain a fresh look and for other business needs. The team came up with a maintenance plan to keep Technical Methods' site safe, secure, and updated.
This is a priority because we deal with a lot of aerospace and defense type of work, so it's important for our customers to go to our website and feel that if they are secure on our website, that they are also secure in any kind of projects that we might be working on for them.
The Results
The website is more modern with great design, graphics, and beautiful photos of their new facility, highlighting the size and capability of their operations.
The website's new layout with the great copy and calls to action encourages prospects to contact Technical Methods and convert them into paying customers.

"You can tell even in the climate that we're in right now, (referring to the Coronavirus pandemic of 2020) the website capabilities are so much more far-reaching."

The website is now mobile friendly and can be easily accessed on smartphones, iPads and other mobile devices. Visitors can now access the company's site with any known device.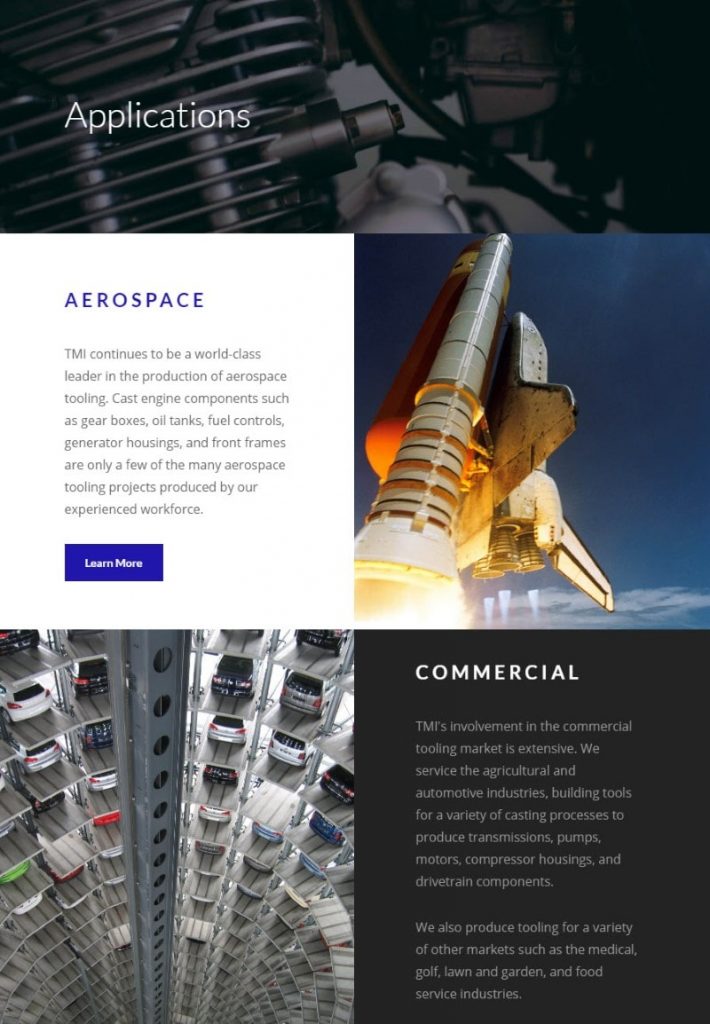 Technical Methods intends to remain current as web standards continue to evolve, and the company has Battlestar Digital as a partner to see to it.
Paul's been really great to work with… he's knowledgeable and he's completely professional, accommodating, and his team that he works with, we see the good work that they do.
We are committed to helping you achieve your business goals by revamping your website to boost conversions.
Learn more or book your free consultation here.